gDisk
gDisk
gDisk is a software that turns your GMail (Google Mail in Germany) account into a portable hard disk drive so you can always have your important files accessible accross the Internet.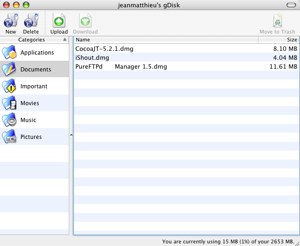 After finding out that gDisk is Open Source Software and there was no German translation I contacted Jean-Matthieu Schaffhauser offering to localize his software. A short period later I sent him the localizations and here we are.
Hopefully there will be the new release of gDisk in future supporting the German language.
You can download gDisk at www.Sourceforge.net